Obituary for Ana Ransom
Oct 20, 1934 - May 1, 2019
"Quilters cut with hope, stitch with grace, quilt with dreams, bind with laughter, share with love"
As we go through life, we can't see beyond the piece we are living but when we look back at life, we see beautiful patterns and colors made into a completed whole.
Ana was born to Gregorio Alonzo and Irene Saucedo in San Antonio, TX. She was the 8th child of 10, the last daughter. The Great Depression was going on for much of her childhood. Fortunately, her father had a job besides the church he pastored but it was still lean times for them. During WWII, many food items, fuel and other things were rationed. Three of her siblings, Julio, Joel and Esther died before age 2. Her father was a minister so she spent time at church and was a lifelong Christian. Her big sisters, Rachel, Ruth and Rebecca played with her, made clothes for her, and spent much time together. She and her siblings grew up bilingual in English and Spanish. Until she was 12, her family lived in a very small house. Then they moved to a much bigger house on McCullough near downtown.
After attending public school, she attended Vocational Nursing School, graduating in 1953. She worked as a surgical nurse at Baptist Hospital for many years before working in the nursery at Brooke Army Medical Center until moving to Midwest City, OK with her husband Dick.
She grew up in San Antonio when it was a medium sized town. At a time when two of her sisters did not drive, she bought her first car and learned how to drive a standard transmission car in a parking lot. Before that she rode the bus to work or sometimes even walked when she worked at Baptist. Her family was very important to her and those family ties are a big part of the quilt of her life. She lived at home until she married. On Sundays, if she was not working, she helped at church, teaching classes, taking notes and singing. In the summer she helped with vacation bible school. She learned how to play the piano to help at church. Her father died in 1965, but her mother lived until 1990. She and her sister Ruth did not marry until their mid-thirties. Her nieces and nephews considered them "fun aunts" because they treated the kids to movies and outings. She did crafts and creative needlework like embroidery and crewel work.
Ana did not get married until she was in her mid-thirties. She met Richard Ransom whom we call Dick. Dick was in the Air Force and often went TDY. In 1970 when he received orders to the Philippines, they discussed marriage either before or after that assignment. Finally, about a week before his departure they decided to get married just before he went on leave prior to going overseas on a 15 month unaccompanied tour. She found a dress, chose her sister, Ruth as matron of honor, her niece, Becki as maid of honor, her nephew as ring bearer and a friend's daughter as flower girl, made arrangements with the Little Church of La Villita and ordered food for a reception at the home she shared with her mother. The lovely wedding was the beginning of 49 years of marriage. When he returned from the Philippines, they lived with her mother for a while before buying a house on the same street.
Because Dick was in the Air Force and went to some overseas assignments, Ana would go visit Dick. She visited him in the Philippines and Japan. Sometimes she arrived and found Dick without too much trouble, other times it was a challenge.
Dick was transferred to Tinker Air Force Base so they moved to Midwest City. She transferred her job to the VA Hospital. Being far from her family she sought ways to help fill her time. Many of her neighbors talked about her walking with neighbors, doing crafts like quilting, going to exercise class. She found a church, did voluntary nursing home visits and sought other ways to help people. She was small physically but had a big impact on the people around her. She loved to sing hymns at church and play them at home. Dick made model planes, trains, cars and boats. He made many things out of wood. She made all kinds of things for their home. Together they have made many gifts for other people as well as for their home. Dick also restored old cars, making them like new again. He belonged to a Street Rodder Club, The Late, Great Chevys. She went to meetings with him and together they made lots of friends. They traveled to many places in those cars and trucks. Ana went to many car shows where Dick's vehicles were part of the show. For the last several years, Ana could no longer drive because of her seizures. Dick faithfully and patiently drove her to her many activities. Dick and Ana liked to dance. They even jitterbugged. Her mother used to quilt and Ana started quilting. She was a member of the Bag Ladies Quilt Guild. Nieces, nephews, great-nieces and great-nephews, siblings and friends cherish the handmade quilts from Aunt Ana.
Every year they went back to San Antonio to visit family and attend Dick's squadron reunions. She would bring a delicious, green Jello mold, yams and Praline Pecan Chex Mix to Thanksgiving dinner. During visits, nieces took her to farmers markets, volleyball games, birthday parties, fabric stores and whatever else they could think of or just hung out together. Visiting often meant eating at restaurants or at relatives' homes. During the last years of their lives, she faithfully visited her sisters in the nursing homes where they lived. She even created a list of Spanish hymns they had sung and loved through the years.
The quilt of her life contains Love of God, Love of family, Friends, Clubs, Earning a living, Creating, Helping people, Music. There are intelligence, diligence, faith and humor that have led to much happiness and joy mixed with some sorrows for contrast.
She was preceded in death by her parents Gregorio and Irene Alonzo, Samuel Alonzo, Julio, Joel, and Esther Alonzo, Ruth Hebert, Rebecca Berry, Abel Alonzo and Rachel Luna. She is survived by her husband, Dick, brother Albert Alonzo of Dallas, nieces Rebecca Wood of San Antonio, Elizabeth Jones of St. Petersburg FL, Annette Knight of Orem, UT, Irene Huerta of Del Rio, TX, David Luna and Rudy Luna of San Antonio, TX, Deborah Napier of Devine, TX, Nathan Alonzo of San Antonio, TX, Jonathan Alonzo of San Antonio, TX, many great nieces and great-nephews across the country.
To send flowers or a remembrance gift to the family of Ana Ransom, please visit our Tribute Store.
Previous Events
Viewing
Barnes Friederich Funeral Home
1820 S. Douglas Blvd.
Midwest City, OK 73130
Viewing
Barnes Friederich Funeral Home
1820 S. Douglas Blvd.
Midwest City, OK 73130
Funeral Service
Barnes Friederich Funeral Home
1820 S. Douglas Blvd.
Midwest City, OK 73130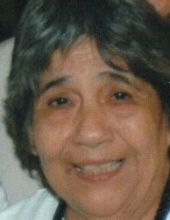 Thank you for sharing your
memory of Ana
Provide comfort by sending fresh
flowers from our local florist.
No thanks, please don't show me this again.