Obituary for Phyllis S. Barber
Margaret "Phyllis" Snyder Barber, age 94, of Teal Creek Assisted Living Center of Edmond, OK, was welcomed into heaven on Friday July 20, 2018, surrounded by her loving family, friends, and caregivers.

Phyllis, and her fraternal twin Awyn, were born October 16, 1923, in a small wooden frame home on a farm outside of Stockton, KS, to Roy Calvin Snyder and Eula Elsie Chamberlain Snyder. She was a 1941 high school graduate from Stockton High School (Stockton, KS) and a 1945 college graduate of Kansas Wesleyan University (Salina, KS) with a Bachelor of Arts degree in English Literature. She then worked as a graduate assistant while preparing for a Master's degree in English at Syracuse University (Syracuse, NY). Phyllis taught high school speech and drama during the 1947-48 school year at Stockton High School.

While attending Kansas Wesleyan University, one of her professors encouraged Phyllis and several other students to attend a fellowship at a local church to entertain service men. Phyllis met Ray Barber while she was playing the piano at one of these functions. Ray would later become her husband and best friend for 59 years.

Phyllis and Ray were married June 13, 1948, at the United Methodist Church in Stockton, KS. They lived in San Antonio, TX, where Ray worked as an accountant and Phyllis taught school for several years. While in San Antonio, their daughter, Linda Elizabeth Barber, was born and Ray was called into music ministry; Phyllis and Ray began a new journey together serving the Lord in various churches. While Ray was attending Southwestern Baptist Theological

Seminary in Fort Worth, TX, Phyllis cared for their daughter and took organ lessons. Phyllis, Ray, and Linda commuted every weekend to Immanuel Baptist Church in Paris, TX, to serve as minister of music, and Phyllis became the church organist. During this time, their second child, Bradford Lynn Barber, was born June 2, 1957. Upon graduating from the seminary, Phyllis and Ray moved to San Antonio to serve in their first full time ministry position at Riverside Baptist Church. While there, Phyllis taught children's choir, sang in the adult choir, cared for Brad and Linda, and supported Ray in all aspects of his music ministry. In 1962, Phyllis was appointed on a committee by the Texas State Legislature to review Texas Public School textbooks. As a result of this responsibility, she wrote a research paper used during her testimony in court. Between the years of 1962-1964, Phyllis continued to research and write reports relating to education.

In 1963, Phyllis and Ray were called to First Baptist Church in Nederland, TX, where they served for 5 years. During those active years in Nederland, Phyllis continued to raise her children and was involved in church service as church organist, children's choir director, VBS teacher, and WMU, as well as other church activities. She was also involved as an accompanist for many band students from Nederland High School during band contest season, and continued her advocacy for free speech and full disclosure of history in public school textbooks.

In August 1968, Columbus Avenue Baptist Church of Waco, TX, called Ray and Phyllis to serve in their music ministry. While there, Phyllis was an alternate organist, sang in the adult choir, taught children's choir, taught in Vacation Bible School annually, and taught English as a Second Language to immigrants in a church-sponsored program.

After serving in Waco, TX, Phyllis and Ray were called to Millbrook Baptist Church in Aiken, South Carolina, in 1972; where they served until retirement in 1988. While in Aiken, Phyllis sang in the choir, taught children's choir, played in handbell choir, taught a Ladies' Sunday School class, and served as organist when needed. She also taught private piano lessons for many years.

Following their retirement, Phyllis and Ray moved to Midwest City, Oklahoma, in 1989 to be near their daughter and her family. Phyllis again sang in the adult choir, taught children's choir, taught in Vacation Bible Schools, served as director of the English as Second Language Program at Meadowood Baptist Church, and assisted her family by being involved with and interested in her grandchildren.

Phyllis was the epitome of "silent waters run deep." Although a very private person, she was kind and helpful to all who knew her. She valued and lived her Christian beliefs in her daily life, being one who accepted others and refrained from criticism and complaints about them. Gossip was a foreign word to her; her family not being able to recall even one instance when she spoke ill of another person. Her lack of complaining extended to herself as well; she didn't complain about situations in her life, even when she had good reason to due to physical pain. Phyllis had a deep love of God, nature, her family and its history, history, family and friend photos, our country, the United States Constitution, OKC Thunder, and butterflies. She was known for her strong mind, not being one easily swayed by fads nor by others. How she lived her daily life with family and others was her testimony of her belief in and love of God. The last years of her life, Phyllis was known for thanking anyone who helped her and/or provided care for her. She always wanted to know the person's name caring for her and would ask where they were from and about their family. Phyllis's sweet spirit will be greatly missed by both family and friends.

She is preceded in death by her husband, Ray Barber; her parents, Roy and Elsie Snyder; her brothers, Bob, Kenton, and Lowell Snyder; and by her twin sister, Awyn Combs. Phyllis is survived by her daughter and son-in-law, Linda and Bob Rutherford; her son and daughter-in-law, Brad and Norma Barber; her grandchildren, Cathy Rutherford, Jon Rutherford (married to Brittany Haws Rutherford); Sierra Barber, and Michael Barber; as well as 3 great granddaughters: Annalee Rutherford, Emma Rutherford, and Katelyn Rutherford. Phyllis is also survived by her sister and brother-in-law Glenna and Jim Loomis, and numerous dearly loved family and friends.

A 2013 note written by Phyllis's roommate and dear friend from Syracuse University wrote:"….You even write calmly so I picture you 'accepting what we/you cannot change' and making your surroundings a joy that then eases everyone around you." This was Phyllis.

A memorial service will be held at Meadowood Baptist Church, August 18th, 2018, at 11 am. Memorials may be made to Meadowood Baptist Church Music Ministry or www.heifer.org.
To send flowers or a remembrance gift to the family of Phyllis S. Barber, please visit our Tribute Store.
Previous Events
Memorial
Meadowood Baptist Church
2816 N Woodcrest Dr
Midwest City, OK 73110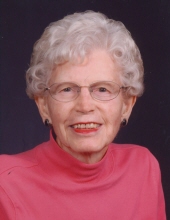 Thank you for sharing your
memory of Phyllis
Provide comfort by sending fresh
flowers from our local florist.
No thanks, please don't show me this again.